Miha Ciglar presented his interface Syntact™ at the Music Hackspace on Thursday 21st of June 2012. To feel the sound, in this occasion meant to place your hand in a focal point where ultrasonic transducers literally blow acoustic energy on your skin. Similar to AM radio, sound waves are amplitude modulated on ultrasound, thus the ultrasound carries the acoustic information inaudibly. The Syntact interface was developed from Miha's interest in receiving tactile feedback in sound performance. This means there is tactile interaction while there is no physical contact with the interface, as the sound is felt by the musician.
After a presentation of the interface, developed by Ultrasonic audio technologies, the company he founded in 2011 in Slovenia, Miha Ciglar performed a short set on a no-input mixing board whose internal feedback was augmented by a Syntact interface, whose output was reflected through hand gestures onto a piezo transducer and fed back into the mixer. A different mode for gestural interaction is possible with the help of a USB camera, which tracks hand movements that are converted to MIDI data which can be assigned to software parameters.
Miha also demonstrated the Acouspade™ directional speaker which also uses amplitude-modulated ultrasound, but this time the wave is being demodulated into the human hearing range. Because of the high directionality of high-frequency waves, sounds can be focused onto a particular point with precision. While Miha aimed the speaker at different points in the room, it was fascinating to observe how these movements could be heard and located very clearly – the sounds always appeared to emerge from a point that was more defined than a real-life sound source would have been.
By Matthias Kispert and Sus Garcia
(note: images will follow)
Come to the event on July 5th, 7pm, at the Music Hackspace.
The Music Hackspace is teaming with Sound and Music to host a composer residency from September 2012.
"Embedded is Sound and Music's artist development programme. Funded by The Esmée Fairbairn Foundation, Embedded places a selection of artists from a range of disciplines into real-world artistic contexts with leading national creative organisations. Aimed at talented artists at an early stage in their career, Embedded is a bespoke programme, providing practical hands-on experience and significant creative opportunities. " (From Sound and Music call)
The Audio Podcast interviewed Jean-Baptiste Thiebaut about the Music Hackspace on Monday 25th of June 2012.
The interview was part of their 61st show, which is recorded weekly by Scott Hewitt and Samuel Freeman, PhD students from Huddersfield university. The podcast – subtitled All About Audio –  lasts 50 minutes and covers in details a wide array of new technologies and innovations. Follow them on Twitter @theaudiopodcast.
The interview is visible here and the audio is available for download here.
On Thursday 28th of June 2012, we will host the 2nd London Max MSP meet up at the Music Hackspace.
Presentations by Patrick Henegan, Bas Vellekoop and Ivaylo Chichanov. Advanced and novice welcome.
Max Patch developed by Autechre.
Robert and Jason, the team behind the new modular synthesizer documentary I Dream of Wires, came to HQ on the weekend. They travelled all the way from the US to talk to us!
Actually that's not true – they came here to interview our friend Dom Butler from Factory Floor. Nice people that they are, after seeing some of what we do here they agreed to point the camera our way. Hopefully the footage will be up on their website at some point.
It looks like it will be a fantastic movie. As well as making a feature length film, they are documenting the inside world of the modular community at a very, very interesting time. Some of the many interviews they've filmed are already available to view on the website, so make sure to head over there: I Dream of Wires. And support them on IndieGoGo!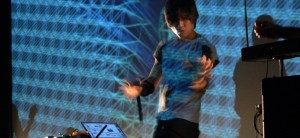 We went with the London Music Hackspace to the BEAM festival this weekend.
Had a great time, met lots of lovely people and saw some amazing performances!
On the Sunday we played a set with the Hackspace Big Band, which was a lot of fun: Stoicheia and a few prototypes featuring as part of the improvised performance.
Massive thanks to Atau Tanaka and the organisers, hope to enjoy much more of this in the future.
Digest powered by RSS Digest
The Music Hackspace is going to BEAM!
We will be there from Friday 22nd to Sunday 24th of June 2012. We will show the SOLARIS project (Jean-Baptiste Thiébaut and Thierry Guibert), Michael Page's mechanical step sequencer, Martin Klang's Euclidian Sequencer, Ariel Elkin's AriVibes, Tasos Stamou's bended toys, Jag's din is noise, and more…
On Sunday, we  perform together as the Hackspace Big Band. Exciting stuff.
Here's a user video of our Euclidean Sequencer –
Jim Credland rockin' out with one of the very first prototypes!